Our Prayer Chaplain program is a unique and rewarding sacred service program within our ministry that trains and supports congregants to serve in the role as Prayer Chaplains. It is an opportunity to both serve others and deepen your own spirituality!
We offer prayer and pastoral support during these uncertain and challenging times! We are here to support you - Please let us know how we can help.
If you would like a Prayer Chaplain to pray with you, please contact our Church office by phone (716-882-0391) or by email info@unitybuffalo.org. Our minister, Rev. Mary Masters is always available to provide pastoral support and spiritual counseling on an appointment basis as well.
What is a Unity Prayer Chaplain?
Someone who prays with you from the heart.

Someone who is here to support you on your spiritual journey.

Someone who will create and hold a spiritual space with you.

Someone who will listen to you and hold what is heard in strictest confidence.
Prayer Chaplains fulfill their role during the year by:
Leading prayers during our Sunday services

Praying with people one-on-one after each service

Making monthly wellness phone calls to church members

Attending monthly meeting for on-going training and support

Committing to these responsibilities for one year at a time. All training requirements must be completed (or repeated) each year for a Prayer Chaplain to re-commit for another year.
When people pray together their intention is magnified. As Jesus said, "Where two or more are gathered in my name, there I am in the midst of them." (Matthew 18:20)
2022-2023 Unity Prayer Chaplains team: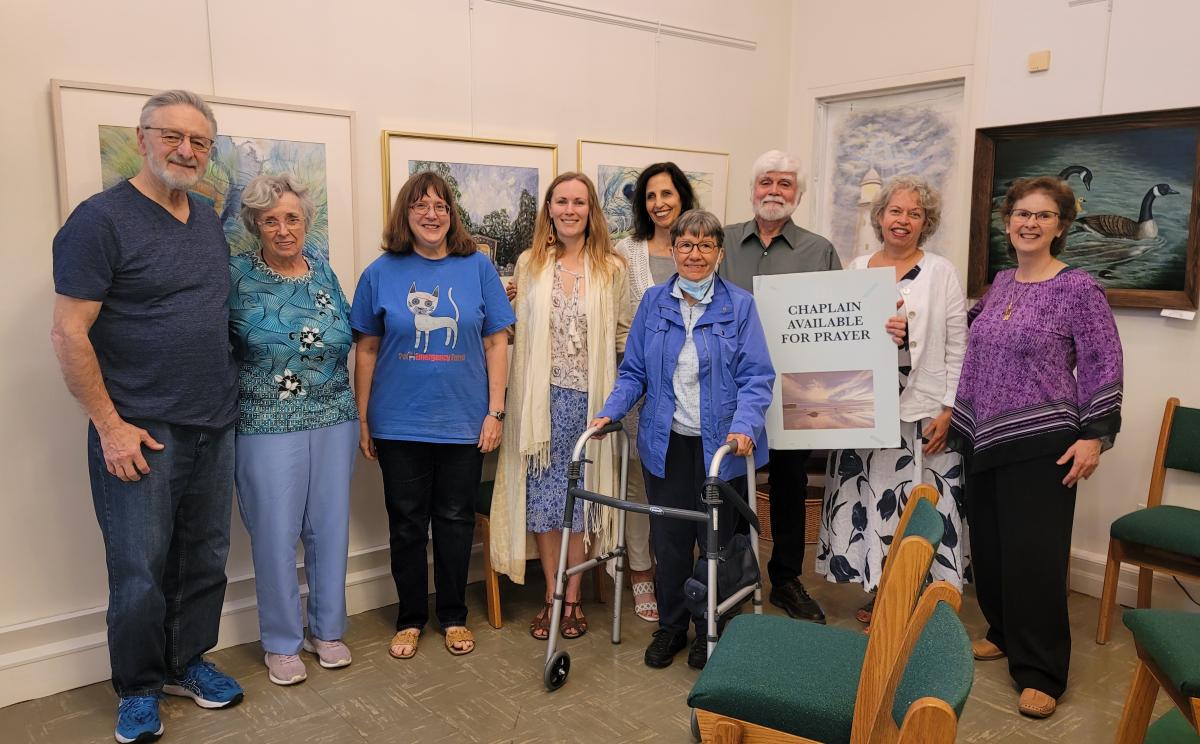 From right to left: John Michaels (Trainer), Victoria Anstead, Harriet Gromer-Hicks, Annabelle Ludwick, Mary Jo Foley, Amy Barone, Tom Deloughry, Mary Beth Wollenschlaeger (Program Director), Rev. Mary Masters. Not Pictured: Shelia Hutson
We are also grateful for the many Prayer Chaplains' emerita, congregants who have served as Prayer Chaplains over the many years of this program. Their prayer consciousness continues to bless and enrich all that we do together.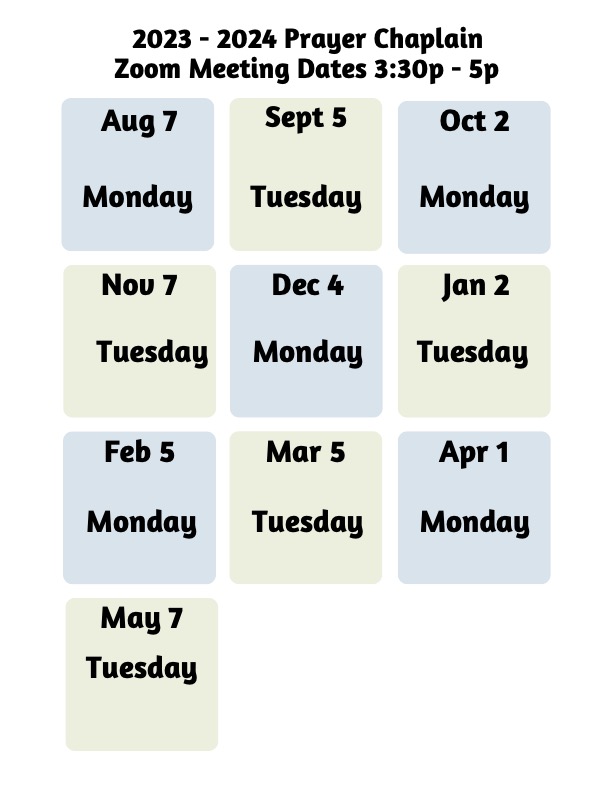 Would you like to know more about becoming a Prayer Chaplain?
Review the following documents:
Prayer Chaplain Position Description
Prayer Chaplain Commitment Form